South Fylde
Please note that due to the ongoing track and trace issues special timetables are in operation across the railway network – please check before you make your essential journey. You can visit northernrailway.co.uk/ or https://www.nationalrail.co.uk/ for information.
The South Fylde Line links Preston, the junction with the West Coast Main Line, with Blackpool the world famous resort and home of Blackpool Pleasure Beach.
Preston is the administrative centre of Lancashire with a good range of shops, cafes, bars and pubs. Many events take place in the Guild Hall and Charter Theatre. Preston can easily be reached from most parts of the UK and then it is a simple change onto the local train to Blackpool South.
South Fylde trains use the main line to Blackpool North until Kirkham and Wesham when they take the branch to Lytham, St Annes and Blackpool South. Lytham is an excellent centre with a range of specialist shops, the Lowther Pavilion and the annual Lytham Club Day and Rose Queen Festival/Carnival. Ansdell and Fairhaven is close to the Royal Lytham and St Annes Golf Club which hosts major golfing events and Fairhaven Lake. St Annes is a delightful town with a Victorian Pier, an annual kite festival and miles of golden sands. On leaving St Annes the train enters Blackpool passing Blackpool Pleasure Beach for the world famous fun fair with its spectacular rides such as Infusion, Avalanche, The Big Dipper and The Big One!! Then on to the end of the line at Blackpool South which is close to Blackpool Football stadium.
Special fares are available that cover journeys onto the local bus and tram networks operated by Blackpool Transport – just ask for Blackpool PlusBus and get unlimited bus and tram travel between Star Gate and Cleveleys. Also look out for special promotions for Blackpool Pleasure Beach.
The South Fylde Line Community Rail Partnership (SFLCRP) has been awarded accreditation by the Department for Transport.
Accreditation is formal recognition by the Department for Transport that the partnership operates to a high standard and that its objectives and activities are supported by the Government. Further, the Government considers the partnership a good representative of the South Fylde Line's communities.
The South Fylde Line Community Rail Partnership (SFLCRP) has a group that meets quarterly. The group consists of officers and representatives from Lancashire County Council, Blackpool Council, Fylde Borough Council, St. Anne's Town Council, Arriva Rail North, Network Rail and the British Transport Police. The group also has a representatives from the Blackpool & Fylde Rail Users Group (BAFRUA)
The South Fylde Line Community Rail Partnership can be contacted by telephoning 01254 386579 or by emailing info@communityraillancashire.co.uk and there is a Facebook page called Community Rail Lancashire and a Twitter feed @crl_live.
The South Fylde Line CRP encourages any feedback about our work, by contacting us via the email address above or by post to the address below:
The South Fylde Line Community Rail Partnership
C/O Community Rail Lancashire
Accrington Station
Eagle Street
Accrington
Lancashire
BB5 1LJ
If you are still not satisfied then please contact the Chair of Community Rail Lancashire on communityraillancashire1@gmail.com or phone 07487 699341.
Accountability
The Department for Transport's accreditation process requires that every community rail partnership (CRP) that have been accredited maintains paperwork including a Route Prospectus, Terms of Reference, and an annual Action Plan, that is reviewed and amended as appropriate. Each CRP is also asked to produce an Annual Report of its activities. To view the paperwork for the South Fylde Line CRP click the link.  
Latest News
Gallery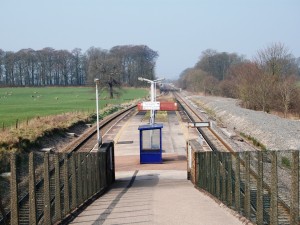 +1