Whether you are a football fan or not Preston's (female) football history is a fascinating mix of determination, defiance, and dedication and Community Rail Lancashire is delighted to have been awarded funding by Avanti West Coast to help bring this often-hidden history to light.
Avanti West Coast have recently prepared a press release and this can be seen on this link:  Avanti Press Release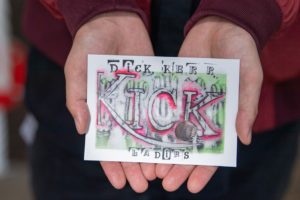 CRL have supported through Avanti West Coast Lancashire-based author, Michelle Crane, and a cast of professional film makers to bring the story of the Dick, Kerr Ladies (a female football team born out of Preston's WW1 munitions factories) to a wider audience. A new film, called 'Granny' is in the process of being made and CRL is working with a group of young people to create a series of postcards about the Dick, Kerr Ladies and their important place in history. The film can be seen on the link below:
On Friday 12th November 2021 at 10.45am, an Act of Remembrance was held at the Memorial on Preston Railway Station.
Last year rail and local football representatives paused to recall, honour and remember those who left families, friends and their homes who served in conflict, with a special remembrance for those who left our railway family.
The service also remembered those who remained to care and work at home, including work from a new project from Community Rail Lancashire commemorating the Dick, Kerr Ladies Football Team. Gail Newsham, Dick, Kerr Ladies historian and Prestontonian wrote a special speech about the Dick, Kerr Ladies and the valuable contribution they made to WW1 veterans and Gail kindly agreed to read the words personally – viewed on the link below. Thank you Gail!
The Order of Service can be downloaded here Remembrance_Preston2021
Gail Newsham has written a book about the Dick, Kerr Ladies – In A League Of Their Own is available from Amazon (and other book sellers) and was launched during Remembrance weekend 2021.
The Lizzy Ashcroft Collection (with thanks to Steve Bolton)
Women's Football History at the National Football Museum, Manchester
The English National Football Museum committed itself to attempt a 50% representation of women. Given the spatial constraints, lack of pre WW2 memorabilia and a historical emphasis on the men's game this included things like female voice overs to male exhibits. However, with a grant from the Association of Independent Museums the museum was able to open the Lily Parr Gallery July, 2021. With Steve Bolton, Lizzy Ashcroft's grandson's permission a number of items have been loaned from the 'Lizzy Ashcroft Collection' to the museum.
To download the full article about the Lizzy Ashcroft Collection click on the link here: Lizzy Ashcroft Collection
If anyone has any information about the Dick Kerr Ladies or even better surviving members or relatives then please get in touch with CRL's Caroline Holden on caroline.holden.crl@gmail.com