A project to see an Adventure Trail and a Geocache Trail around the village of Croston in West Lancashire will be launched on Thursday 23rd February, when a colourful piece of artwork will be unveiled on the cycle shelter at the station.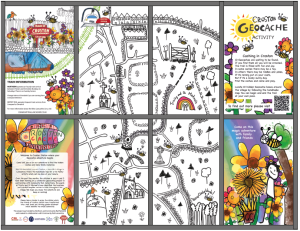 Community Rail Lancashire has been working with pupils from Trinity & St. Michael's CE & Methodist Primary School and local artist Karen Allerton to produce details for the geocache sites and also a leaflet for the project.
Copies of the Adventure Trail and the Geocache Trail can be downloaded buy clicking on the images below – we have prepared colour versions and to help you keep costs down and save ink a monoi version.
What is a Geocaching? Wikipedia describes Geocaching as an outdoor recreational activity, in which participants use a Global Positioning System (GPS) receiver or mobile device and other navigational techniques to hide and seek containers, called "geocaches" or "caches", at specific locations marked by coordinates all over the world.
There is an official body www.geocaching.com where you can register and record your geocaching successes.