Ansdell & Fairhaven
Ansdell & Fairhaven is a joint station serving two small towns on the Fylde coast. The station first opened in 1872 as Ansdell but has been called Ansdell's Gate, Ansdell's Halt and finally in January 1906 it was renamed Ansdell & Fairhaven.
Ansdell has the distinction of being the only place in England to be named after an artist. Richard Ansdell RA, a renowned artist, who painted a large number of oils depicting hunting scenes.
Fairhaven is named after Thomas Fair, an early resident of Lytham St Annes. Its main claim to fame is an artificial lake, known as Fairhaven Lake or more formally as the Ashton Marine Park. Its other famous landmark is the Fairhaven United Reformed Church, which is of unusual design, being built in Byzantine style and faced with glazed white tiles, and commonly known as the White Church.
The station is only lightly used for the majority of the time but sees a phenomenal increase in patronage when the famous Royal Lytham & St. Annes Golf Club hosts the British Open Golf Championship once every ten years.
Heritage Trail
An updated version of the Ansdell Heritage Trail has been produced and can be downloaded by clicking on the image below: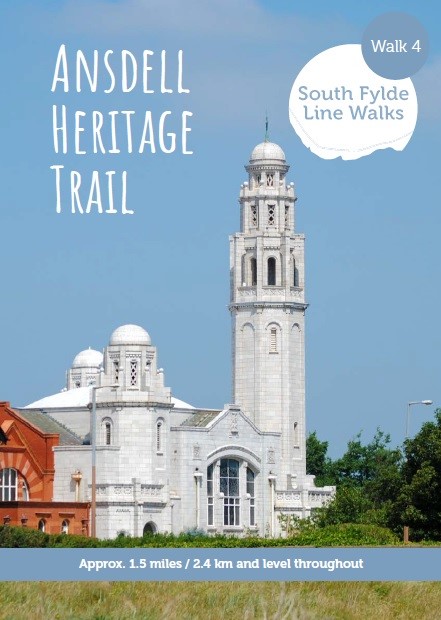 History Posters
A history poster has been prepared for Ansdell & Fairhaven station and this can be viewed by clicking on the thumbnail below or on this link: History Posters
Address
Ansdell & Fairhaven Station
Woodland Road
Ansdell
Lancashire
FY8 1AG
Grid Reference
SD 345277 – for a map visit www.streetmap.co.uk and enter the grid reference.
Operator
Facilities
+  Unstaffed station
+  Ticket Vending Machine
+  Hourly service to Blackpool South and Preston
+  Waiting shelter with seating
+  Long Line Public Address
Other Information
+  Bus stops close to the Library and on the A584 main Blackpool Road – click here for bus timetables
+  Friends of Station – visit communityraillancashire.co.uk/station-adoption/ for more details
+  CRP branded notice boards
+  The White Church is about 10 minutes walk from the station – click here for more information
+  Details of The Royal Lytham & St. Annes Golf Club can be found by clicking here
+  Fairhaven Lake, home to a large number of wildfowl is 10 minutes from the station – click here for more information.