West of Lancashire Lines

The West of Lancashire Lancashire Community Rail Partnership covers the Preston to Ormskirk, Wigan to Southport and Wigan to Headbolt Lane lines.
Preston to Ormskirk
Leaving Preston on the West Coast Main Line the Ormskirk train soon heads off across the marshes for Croston. Croston is a delightful linear village with plenty of pubs and many interesting buildings. Next is Rufford with walks along the Rufford branch of the Leeds Liverpool Canal to Latham and Burscough, the developing canal marina complex with St. Mary's Marina Boathouse Brasserie and Rufford Old Hall owned by the National Trust. At Burscough there is an easy walk to the new Burscough Bridge Interchange on the Wigan to Southport line. The train terminates at Ormskirk with connections into the frequent Merseyrail service to Liverpool. There is now a roughly hourly service on the line Monday to Saturday so it is possible to have a full day out.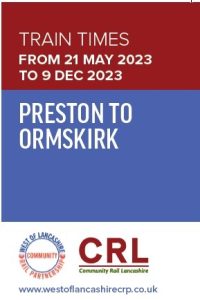 Wigan to Southport
This is a busy commuter line connecting West Lancashire with Wigan, Bolton and Manchester. There are some major attractions along the line that can be easily reached by train and foot/bike or bus!
Martin Mere, the renowned wetland centre is very close to Burscough Bridge Interchange and a new footpath link connects the award winning interchange with the bird/nature reserve.
The service terminates at Southport, England's classic resort with a wide range of shops, cafes, bars and entertainments to suit all tastes and ages. Take a stroll along the elegant Lord Street with its wide variety of shops or visit the pier which has had a major refurbishment and take the little train for a trip along it!
Wigan to Headbolt Lane
Details under development
The West of Lancashire Community Rail Partnership (WoLCRP) has a management group that meets quarterly. The group consists of officers and representatives from Lancashire County Council, West Lancashire Borough Council, Sefton Metropolitan Borough Council, MerseyTravel, Transport for Greater Manchester, Northern Railways, Network Rail, the Community Rail Network and the British Transport Police . The group also has a representatives from the following: Ormskirk & Preston Travellers Association and the Friends of Burscough Stations.
The West of Lancashire Community Rail Partnership can be contacted by telephoning on 01254 386579 or by emailing communityraillancashire.crl@gmail.com and there is a Facebook page called Community Rail Lancashire and a Twitter feed @crl_live.
The West of Lancashire CRP encourages any feedback about our work, by contacting us via the email address above , or by post to the address below:
The West of Lancashire Community Rail Partnership
C/O Community Rail Lancashire
Accrington Station
Eagle Street
Accrington
Lancashire
BB5 1LJ
If you are still not satisfied then please contact the Chair of Community Rail Lancashire on communityraillancashire1@gmail.com or phone 07487 699341.