The West of Lancashire Community Rail Partnership (WoLCRP) held it's autumn quarterly meeting on Thursday 12th October 2023. The meeting was held as an online meeting and attend by representatives from Community Rail Lancashire, Northern Railways, West of Lancashire Borough Council, Sefton Council, the Community Rail Network, Network Rail and Friends of Stations Groups.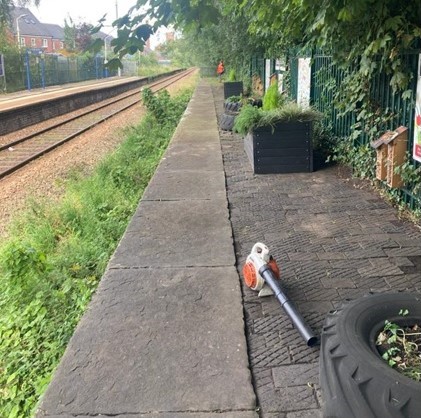 The group were updated on the Action Plan by Richard Watts, Secretary of the CRP and points included:
+  At the latest Community Rail Executive Group (ComREG) meeting there was a  common themes for all CRP Reps concerning proposals for the closure of booking office (680,000 replies to the consultation), reliability & cancellation of services and funding.
+ Noted that the re-accreditation meeting had taken place on 5th October with the Community Rail Network. RW thanked all those who were involved or provided information, particularly thanking Chair, Stephen Benge for his presentation of the WoLCRP report.
+  Thanked the Lancashire Rail Ramblers (represented at the WoLCRP by David Pryer) for the programme of guided walks. See: CRL Guided Walks Leaflet Jun Dec 23.pdf
+  Community Rail Development Officer, Caroline Holden updated on the progress at Burscough Junction station (see image above) and also on the project for Burscough Stations to Martin Mere incorporating two elements – a film of the walk which will become part of the Exploring Lancashire by Rail film series, and artwork to be created to highlight the start of the route from the eastbound station platform to Martin Mere which is being created by Ormskirk artist and illustrator, Angie Thompson and all 45 pupils from Burscough Bridge Methodist Primary school.
To see the full Action Plan update click on this link: Activity Plan Update 12th October 2023
An update was also given by Northern Railways and this presentation can be seen on this link: WoLCRP presentation October 2023
It was also noted during the meeting that the New Headbolt Lane station had successfully opened on 5th October 2023 with Merseyrail service operating to Liverpool Central and Northern services from Blackburn via Todmorden now working through to the new station.
The various Friends of Stations groups updated on their activity, and the Community Rail Network and Network Rail also gave brief updates.
The next meeting of the West of Lancashire CRP will be held on Wednesday 31st January 2024, 10:00 via Microsoft Teams.