The Annual General Meeting of the West of Lancashire CRP was held on Wednesday 20th April 2022. During her introduction Marion Atkinson, long standing Chair of the group, announced that she was standing down and that a new Chair would be elected. The result of the elections for officers was:
Chair – nomination Stephen Benge (West Lancashire Council) – elected
Vice Chair – nomination Peter Hillsdon (Sefton Council) – re-elected
Secretary – nomination Richard Watts (CRL) – re-elected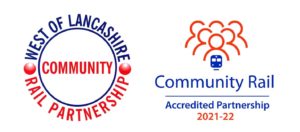 The Community Rail Lancashire 2021 Annual Report was received, and the 2022 Joint Action Plan was accepted and adopted.
The AGM was followed by a normal management group meeting and an update on the action plan was received and this can be seen on this link: WofL CRP Update April 2022
Partnership Secretary Richard Watts highlighted a few specific projects including:
+  Noted that Katie Douglas has her title changed to Accessibility and Inclusion Officer, but continues to work in the special needs field.
+  CRL are advertising for a new Community Rail Officer – a permanent position but initially working with Avanti west Coast on their Feel Good Field Trips project.
+  Gave an overview of what CRL and the four CRPs are intending to do during Community Rail Week in May.
+  Noted that the Down the Line website is to be completely revamped with a new name and a new site. The main CRL website is due to have some work to modernise the home page.
+  Noted that the Burscough 'Bird Trail' has reached Burscough Bridge station in the shape of a Dibond panel adjacent to the start of the permissive path to Martin Mere.
+  CRL has been working with ICG Strategic Marketing Agency to help promote the films and Simon Clarke has become a 'regular' on the programme hosted by Maria Felix Vax. Simon recently recorded the canal walk from Burscough to Rufford.