On a cool, but bright Friday afternoon Simon Clarke, a Community Rail Development Officer with Community Rail Lancashire, and his wife Janet decided to explore St. Annes using a self-guide walking leaflet produced by the South Fylde Line Community Rail Partnership.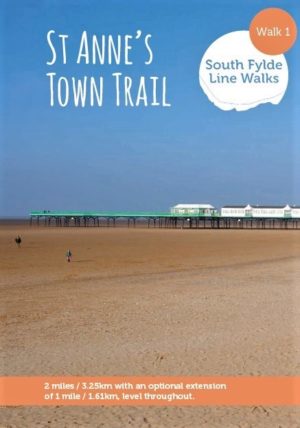 If you fancy a day out by train to walk this interesting Town Trail then click the image above to download the self-guide leaflet and start the walk at the railway station. The Town Trail takes in the history of the town over a two-mile gentle stroll with an extension of another mile to visit the Parish Church of St. Anne, after who the town took its name.
Discover why the town was created in the 1840s by the Clifton family, who paid for Ashton Gardens and a little about the Porritt style houses that are a feature of the town. Find out why there is statue of comedian Les Dawson close to the Victorian pier. Pause to reflect on the bravery of the volunteer lifeboat men who lost their lives on a stormy night in December 1886 trying to save the crew of German ship the Mexico.
The walk can easily be accessed by rail with an hourly train service on the South Fylde Line and there are plenty of places in the town to get a coffee, snack or even a substantial meal. Why not tie in a visit to coincide with the monthly Farmer's Market that takes place on the first Thursday of each month.
Details of the train service from 17th May 2021 can be found on this link and connections from other parts of Lancashire by using nationalrail.co.uk
Other self-guide walks on the South Fylde Line and other branch lines across Lancashire and North Yorkshire can be found by clicking this link communityraillancashire.co.uk/walks/self-guided-walks/