Over the past several months, mums from Bradford's Ravenscliffe estate have been taking part in a railway engagement project, called This Girl Can, organised by Community Rail Lancashire and the Gateway Community Centre encouraging them to look towards careers in the industry.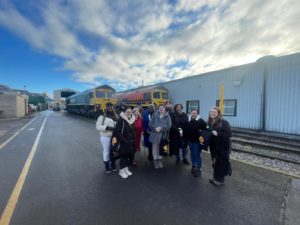 During the project, the ladies have visited Skipton, Harrogate, York and Leeds to increase their rail confidence, talk to railway staff and find out more about roles in the industry.  On Friday 20th January the project finale saw them visit Freightliner's Midland Road depot in Leeds.  Here, they heard from driver Liz Empsall and HR Business Partner Clare Antrobus as well as other employees who spoke about their roles and what opportunities there are working in the industry.  Furthermore, they had a depot tour and even got to look inside the cab of a freight train and find out how they're operated.  Karen Bennett, Education Team Leader at Community Rail Lancashire who organised the trip is a Ravenscliffe resident herself. She explained, "It's so important to show local women what career opportunities are available for them and their family members.  I absolutely love my job in the railway industry and know it's something I can do that supports my family and allows me to have valuable time with my son".
Community Rail Lancashire has been involved in several projects to showcase the railway industry to women to try and tackle the large workforce gender inequality – with only 16% of the being made up of female employees compared to 84% male.  This recent project has seen women increase their interest in these roles with several applying for jobs for different companies in the industry.
Depot manager Richard Yates commented on the visit, "It's been great to host the group from the Gateway Centre today at Midland Road.  Showcasing our industry to women will support to diversify our workforce, something we're all striving to achieve.  We'd welcome today's guests to apply for wide range of opportunities Freightliner has to offer."
To see current job opportunities at Freightliner, please go to: https://www.freightliner.co.uk/careers/
Notes to Editors:
Schools, colleges and community groups can find further information about Community Rail Lancashire's education engagement here.
Community Rail Lancashire (CRL) is the umbrella body for five community rail partnerships (CRPs) covering a total of eight lines or routes, forming one of the biggest groups of CRPs in the country.
Clitheroe Line: Clitheroe to Manchester Victoria
DalesRail Line: Blackpool North to Carlisle
East Lancashire Line: Preston to Colne
South Fylde Line: Preston to Blackpool South
Todmorden Curve: East Lancashire to Manchester & Salford via Burnley
West of Lancashire Lines: Preston to Ormskirk &, Wigan Wallgate to Southport
CRL has been involved in rail education work, restoring railway projects, responding to consultations, levelling up bids and access studies amongst general community rail work.