Entwistle
The rather remote station at Entwistle was opened on the 1st August 1848 and has always been a country outpost. It is served by Northern Rail and is on the Manchester Victoria to Blackburn and Clitheroe (Ribble Valley) Line.
The station has had its moments in the spotlight. It was used as a location in Jeffrey Archer's film First among Equals when it was renamed Middlewood and it became Middlewood again in Peter Kay's Max and Paddy's Road to Nowhere television series.
The location of the station makes it a popular starting point for the wide range of walks in the immediate area. Blackburn with Darwen Borough Council market the station as the gateway to the West Pennine Moors and there are good family walks, well marked round Turton and Wayoh reservoirs. Turton Tower, a grade one listed building, dating from 1400 is situated about two miles from the station. Details of local walks can be obtained from Blackburn Visitor Centre.
Lancashire By Rail
A series of films is being made for Community Rail Lancashire by a local creative film company Huckleberry Films which are designed to encourage people to Explore Lancashire by Rail. A film has been made for the Clitheroe Line and is about a circular walk from Entwistle station and takes in the Turton & Entwistle reservoir with an optional extension around Wayoh reservoir. This can be viewed by click on the link below.
A map of the route can be seen below and is with thanks to the Ordnance Survey who hold copyright for the mapping.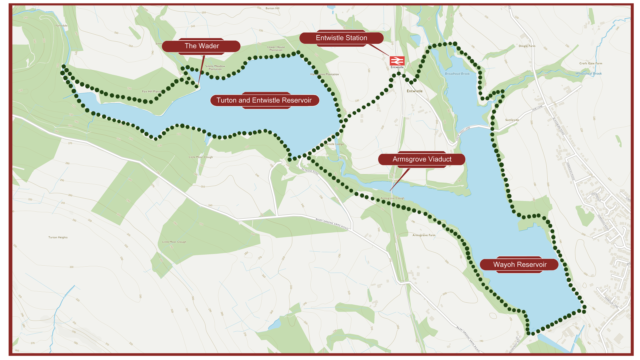 History Posters
A history poster has been prepared for Entwistle station and this can be viewed by clicking on the thumbnail below or on this link: History Posters
Address Entwistle Station, Overshores Road, Entwistle, Bolton, Lancashire BL7 0NG
Grid Reference
SD 727178 – for a map visit www.streetmap.co.uk and enter the grid reference.
Operator
Facilities
+  Unstaffed station
+  Hourly service to Blackburn, Clitheroe and Manchester Victoria
+  Waiting shelter
Other Information
+  Rail User Group – Ribble Valley Rail
+  Friends of Station – visit communityraillancashire.co.uk/station-adoption/ for more details
+  CRP branded notice boards
+  Way marked footpaths from station around Turton & Entwistle and Wayoh reservoirs are part of the 32 mile Witton Weavers way – click here for more details
+  Turton Tower is approximately  2 miles from the station and more detail can be found by clicking here.