Sunday 16 May 2021 saw the start of the DalesRail service that runs on summer Sundays until 12 September 2001. The first service ran on time in both directions and was formed of a 2 car 158 unit.
The service runs from Blackpool North (08:40) via Preston (09:07), Blackburn (09:28) and Clitheroe (09:50) and then through the Yorkshire Dales and Eden Valley arriving into Carlisle at 12:19. Over 40 people joined the service to enjoy a walk in the Yorkshire Dales and from Sunday 6th June they will be able to join one of the many guided walks led by the Lancashire Rail Ramblers.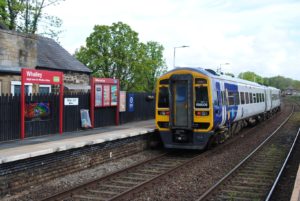 You can find out more information about this iconic service by visiting www.dalesrail.com and to see the timetable and fares information click these links: DalesRail Timetable 2021 or DalesRail Fares 2021
Advance notice:
On Sunday 30 May 2021 engineering work in the Carlisle area means that DalesRail will be retimed to depart Blackpool North earlier (08:12) and then connects at Hellifield into the 09:59 departure to Appleby. A replacement bus service will then go forward to Carlisle. The return journey will be a bus from Carlisle (14:35) to Appleby and the the 16:02 service to Hellifield which will connect with the 17:34 departure to Blackpool North.