On Tuesday 8th November, a ceremony took place at St Anne's-on-the-Sea railway station to mark the unveiling of the new replica Foundation Stone and Interpretation Boards.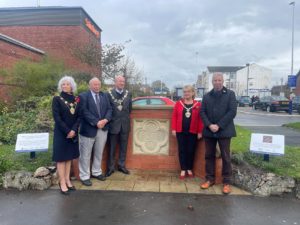 In attendance at the event was the Mayor and Mayoress of Fylde, Mayor of St Anne's, St Anne's Civic Society, Northern, Members of St Anne's Station Volunteers and the team from Community Rail Lancashire.
This project, the project has been led by the South Fylde Line Community Rail Partnership (SFL CRP) supported by Community Rail Lancashire, saw a replica of the existing foundation stone, which is currently embedded in the basement wall of the Town House pub, relocated to the green space outside of St Anne's Train Station, so it can be seen by all.
The foundation stone is an important part of the town's history and links to the town's Neighbourhood plan, enhancing an important gateway into the town, whilst recognising the historical, social and architectural developments of St Anne's.
The project is being funded by St Anne's Town Council, Fylde Borough Council Community Projects Fund, Lytham Heritage Group, Community Rail Lancashire and a number of personal donations.
Mayor of Fylde, Ben Aitken said: "I'm delighted to be here today to help unveil this fantastic foundation stone and interpretation boards at St Anne's Station. The volunteers are so important to this station, making it look beautiful all year round and have been recently successful by winning an In Bloom award.
This foundation stone is so important for the town and I'm so pleased that the interpretation boards show the history and I'm proud to unveil these today."
Mayor of St Annes, Councillor Karen Harrison said: "This is the gateway to our town and what a great gateway it is. This project has taken a bit longer than we expected, due to various reasons outside of our control but it certainly has been a labour of love by the team.
I'm delighted and proud to be here today to help unveil the stone and boards. Congratulations to everyone who has been involved, I hope everyone appreciates it as much as we do!"
Tony Ford, Chair of South Fylde Line, Community Rail Partnership added: "It's been a long journey over the last few years but today we are here unveiling the Foundation Stone and interpretation boards, making it accessible to all. It's great to have everyone here today and a huge thank you to all the funders and volunteers who have made this possible. I've many more things on my list to tie St Anne's Station to the town and residents, including a time capsule to mark the town's 150th birthday in 2025… so watch this space."
Owain Roberts, Stakeholder Manager, Northern commented : "The Foundation Stone project was one of the first projects I was involved in after joining Northern and I assisted Tony with the Landlord's Consent process. It's great to see the Foundation Stone now in place to help inform the local community about the origin of their town and another reason to encourage people to visit St Anne's station to see the great work of the Station Friends group".
Richard Watts, Chair Community Rail Lancashire (CRL) also commented: "Tony Ford has been the inspiration behind this project to produce a replica of the town's Foundation Stone which we are launching today. St Anne's station was opened on its current site in 1875 the same year as the laying of the Foundation Stone, and has been a major gateway to and from the town ever since. Today the station is a credit to the devoted work of the Friends group who are supported by Northern and CRL".