A quick update on things happening in the Bolton area and beyond with the South East Lancashire Community Rail Partnership.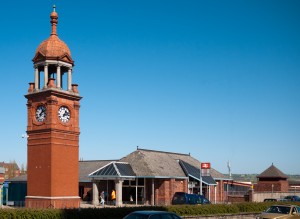 Last week the CRP had the formal unveiling of the stunning artwork in the subway at Wigan North Western Station, funded by Avanti West Coast. Worth a trip to Wigan to see it! Our beehive project, behind the Swan and Railway, is coming along well and we hope the bees will take up residence next Spring. The Clocktower Trails project is moving forward, the first stage being Wigan to Bolton: a series of self-guided walks connecting paths to stations along the line. This will be followed by Bolton – Manchester, Bolton – Blackburn and Bolton – Preston.
Our two rail-linked bus projects, to Rivington and to Haigh Woodland Park, came to an end in October and we are looking at ways to run them next year. We are assessing how the two services have performed – Haigh has done really well, Rivington was affected by road closures in August but still did OK and is in line for an award at the national Community Rail Awards, being held in Southampton on December 9th. We have three entries shortlisted which is great.
On Wednesday November 24th, at Bolton Station, our partners in Bolton Station Community Partnership have the formal unveiling of the winning entries to our 'Platform Poetry' competition. Some great work, we hope you'll like them!
At 19.00 on Wednesday November 24th there is a showing of the acclaimed Octagon film, 'The Fabric of Bolton' in the P5 Platform Gallery which is next door to the Community Room. The film is about the lives of Asian people who settled in Bolton in the 60s and 70s and found work in Bolton's then-flourishing cotton mills. Admission is free, don't miss it! Just so we can manage numbers, let Julie (email below) know you're coming.
On Saturday December 18th the Bolton Station Community Partnership is holding a 'Festive Fair' at Bolton Interchange – there will be stalls, food and music – details are being finalised but should be a great event. If your group would like a stall, please contact Julie at the address below.
We've plenty more projects on the go or at early development stage, including a possible joint project with Community Rail Lancashire looking at access to the West Pennine Moors and a specific project at Entwistle which would encourage more people to use the train to access this lovely area (and nice pub nearby!). We are also developing a cycling project which could have 'hubs' at several locations.
Next year is the centenary of the merger of the Lancashire and Yorkshire Railway with 'big brother' the London and North Western Railway. Bolton was of course an L&Y station, and the platform level buildings are 'pure' Lancashire and Yorkshire; similarly, Wigan Wallgate and the L&Y's top station at Victoria. We'll be marking the centenary with events at Bolton and participating in other activities around the area. We'll keep you posted.