Over the festive period and into January there are several amended timetables across the Northern network due to the availability of train crew and major engineering work. We know how important this Christmas is to people and we are encouraging everyone to check before they travel.

Along with other operators, Northern are experiencing a higher than usual level of train crew absence related to COVID-19. This is despite measures to restrict the potential transmission and the recent change in self-isolation rules. While they do operate with additional staff, in these circumstances it is not possible to provide the resources to run every service and – in line with many other train companies – we have taken the difficult decision to reduce service levels on some routes.
Below you will find a summary table of the changes that will be in effect from 4 January. These will be reflected in new timetables which will be published on our website and in journey planning systems from the end of December onwards.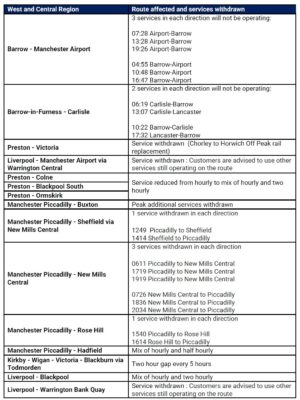 As with any timetable change, Northern are working closely with Network Rail and our aim is to ensure as much customer certainty as possible and minimise short notice cancellations. Given the inherent uncertainty of COVID-related absences however, we are also urging all customers to check before they travel as there may be some short-notice cancellations.
Online journey planners, including website and apps are being updated and we encourage customers to check nationalrail.co.uk for the latest journey information. For customers with advance tickets, if a train has been cancelled, they can travel on an earlier or later Northern service. On top of this, and to provide maximum flexibility for customers, until 31 March we are operating as part of the 'Book with Confidence' scheme which allows people to change travel plans up until the evening before departure without being charged a fee or cancel their trains completely and receive refunds in the form of rail vouchers.
Northern are also operating an amended timetable between until 3 January to allow for engineering work across the network. Further information can be found on our website.
Northern would like to apologise to you and to our customers for any disruption that may occur as result of these measures.