Community Rail Lancashire are very excited to be a partnering alongside Northern, Angel Trains Limited and Totem Learning Ltd to support Chrome Angel Solutions to build an Accessible Travel Virtual Reality Simulation.
This very exciting and ambitious project has been funded by an Accessibility Transport Research and Innovation Grant, a programme of funding that "has been designed to enable small businesses to develop technology that will make our transport systems more inclusive, removing the barriers that prevent disabled passengers from travelling confidently, safely and with ease." (Connected Places Catapult).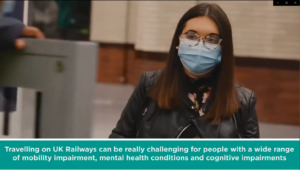 Chrome Angel Solutions are working with users from Northern Accessibility User Group and Community Groups to develop a "Serious Game" VR Simulation that will support disabled people in the UK to better access travel on Northern. A "highly realistic virtual reality simulation, immersing users in rail stations and carriages…to help improve staff understanding of the challenges faced by passengers and build the confidence of disabled passengers when travelling on the rail network." (DfT)
Thanks to the Department for Transport and Connected Places Catapult for choosing this project, and read more about this competition at Catapult and Gov.UK
"…make our transport network more open, stress-free and simple for disabled passengers, and I'm proud that we're investing in unique technology to improve accessibility across the UK. We're committed to making transport accessible for all and this investment, along with the Inclusive Transport Strategy, will build a better, fairer network for the future." Chris Heaton-Harris Accessibility Minister.