Artistic flair of Rufford School pupils launches new walking route from Community Rail Lancashire.
Community Rail Lancashire is proud to unveil and celebrate artwork created by local children to support the organisation's newest project; a self-guided walk from Rufford Station to Mere Sands Wood Nature Reserve.
Pupils of Rufford Church of England Primary School worked with artist Karen Allerton to create illustrations which feature in the walk leaflet, as well as being displayed in the cycle shelter and on new signs at Rufford Station.
Features include trees, with detailed leaves and trunks created with collage, interesting facts and figures, local wildlife, hints and tips and there is even a mention of the Rufford Station cat – who pops by daily to enjoy treats from the team working onsite!
This route is the latest in a series of walks Community Rail Lancashire has collated, some of which start and end at local railway stations. Each walk has an accompanying route map and video showcasing facts and figures about the towns, villages and hamlets they pass through.
The new self-guided walk leaflet can be downloaded on this link: Rufford to Mere Sands Wood Leaflet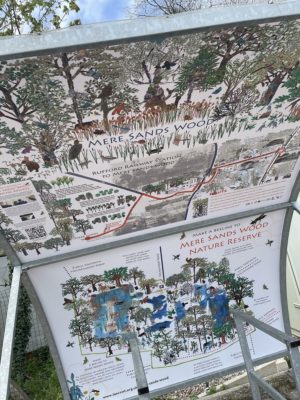 There was an official launch of Rufford School pupils' artwork on Friday April 22nd, when children were invited to see their pictures in situ before heading to Tastebuds for celebratory ice creams and cookies.
Caroline Holden, Community Rail Development Officer with CRL said: "The standard of the children's artwork is fantastic and was highly praised by Karen Allerton who worked with them on the leaflet.
"I also have to commend the enthusiasm of the Rufford Village Society who helped instigate this project with the primary school; it's been a really rewarding and collaborative process. A lot of their local knowledge has been reflected in the leaflet and the way it has been written.
"Mere Sands Wood is owned by Lancashire Wildlife Trust and has 42 hectares of woodland, lakes and heaths. The 1.2-mile walk starting from the station is a little adventure in itself and the new leaflet will help people find their way and learn about Rufford as they pass through the area."
Victoria McIver, Head of Marketing at Lancashire Wildlife Trust said: "It's great to see Mere Sands Wood getting a bit of extra publicity. It's a fantastic haven for nature and a lovely place for families to visit. I'm sure this walk, and the children's beautiful artwork, will encourage even more people discover the area and all it has to offer."
Chris Jackson, Regional Director at Northern said: "This is a fantastic initiative that our volunteers have created that will make the station even more welcoming for our customers. Our community partners are the heartbeat of the railway and we're extremely proud to work closely with them to deliver such a wide-ranging positive impact for the north of England."
Headteacher of Rufford Church of England Primary School, Mrs Ellery, added: "The children worked extremely hard conveying the nature and scenery you're likely to experience on this walk and their artwork has been beautifully showcased alongside Karen Allerton's.
They were very much inspired by the project and the opportunity to play a part in promoting our locality. I think all our artists should be very proud of themselves."
Artist, Karen Allerton, said: "The children were passionate and enthusiastic and really embraced the project from the outset. They are all incredibly talented and it was wonderful to be working with schools, and Community Rail Lancashire, once again."
Susan Morrey, Secretary of the Rufford Village Society, who have adopted the station, added:
"The new signage looks fantastic and ties in perfectly with the leaflet Community Rail Lancashire has produced with the children's wonderful artwork. We were delighted to contribute information about the station and the area, and hope that people exploring Rufford and Mere Sands Wood find it interesting."
Community Rail Lancashire is an organisation focused on improving community rail lines, stations and services.  All the self-guided walks can be found at communityraillancashire.co.uk/walks/self-guided-walks/ or visit communityraillancashire.co.uk/lancashire-by-rail/ to see some short films that are designed to encourage you to 'Explore Lancashire By Rail'.