A new Sunday bus service linking the Greater Manchester and Lancashire rail network with one of the North West's most popular countryside attractions started in April.
The bus, linking Bolton and Horwich with Rivington Country Park, has been promoted by South-East Lancashire Community Rail Partnership, with support from the Community Rail Network, CrossCountry Trains and Horwich Town Council.
Rivington Park, at the foot of dramatic Rivington Pike, used to get thousands of visitors before the pandemic – but had no public transport service. It was a stiff walk from Horwich town centre, deterring many families from accessing the many attractions in and around Rivington.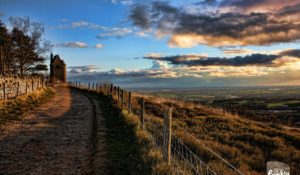 The Community Rail Partnership won funding from Community Rail Network's Integrated Transport Fund which enabled the extension of an existing commercial bus service – the 575 from Bolton to Horwich, operated by Diamond Bus North West – through to Rivington. The half-hourly service operates every Sunday and bank holiday until late October, taking a circular one-way route from Horwich into Rivington and returning via Horrobin Lane and New Road.
Paul Salveson, chair of the CRP, stressed that the new service was about improving accessibility and also offering an alternative to the car: "Rivington is already starting to fill up with cars once more, as Covid restrictions ease. The bus offers an alternative to the hassle of trying to find somewhere to park. But many people haven't been able to get to Rivington because of lack of public transport. Now, at least on a Sunday, they can – thanks to the help we've had from CRN's Integrated Transport Fund. We've also been able to use some funding from our partners CrossCountry Trains, enabling people from further afield to use the train and bus to reach Rivington."
The CRP partnered with Rotala-owned bus company Diamond, which has a large depot in Bolton. "Diamond has been a great company to work with," said Paul. "We hope this will be the beginnings of a wider collaboration to improve bus-rail links in our partnership area around Bolton, Wigan, Salford and Chorley."
Diamond Bus North West said; "we are delighted to be working in partnership with the South East Lancashire Community Rail Partnership to bring this service to Rivington by extending our 575 service to run from Old Lord's Estate, Horwich to Rivington and back again. This is an opportunity that we could not turn down and allows us to continue to give something back to our local community and allow everybody the chance to visit one of the most popular local tourist hotspots in the North West."
Download the bus timetable on this link: Bus No 575 – Bolton to Rivington 
The new bus service can be accessed by rail at Bolton with trains arriving from Clitheroe, Blackburn and Darwen at 19 mins past the hour and buses leaving the bus station at 30 mins past the hour from 09:30 to 16:30.