New artwork is to be displayed at Accrington Eco Station to promote it's sustainable features.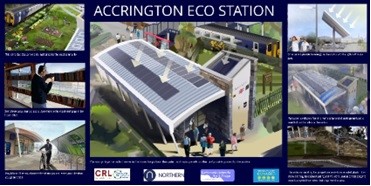 Community Rail Lancashire have been working with professional artist, Alastair Nicholson to produce a series of drawings to demonstrate what makes Accrington a sustainable station.
The artwork which has been funded by Community Rail Network and Prospects Foundation will soon be displayed on the main station building next to the ticket office. The artwork will raise awareness of sustainability in Accrington. Visitors and residents of the town will be able to learn more about the features of the eco station which was built in 2010. The artwork will also be used as an educational tool for school and community groups that visit 'The Bunker' at the station.
There will also be a series of smaller images on the fence next to platform one that will be visible for people to see on passing trains.