The West Lancashire Line between Preston and Ormskirk is not everyone's idea of a scenic railway, yet this hidden gem is attractive and offers many opportunities for long or short days out.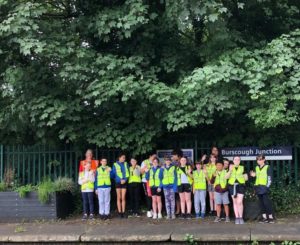 To showcase one of the many opportunities for a day out the West of Lancashire Community Rail Partnership (WoLCRP) and Community Rail Lancashire (CRL) has joined forces with Huckleberry Films to film a walk between Burscough Junction and Rufford station. The walk takes in the attractive Leeds & Liverpool and Rufford Branch canals as well as the historic Rufford Old Hall and highlights the many interesting things that can be seen along the route.
A map of the route can be seen below:
And the film can be seen by clicking on the image below:
Richard Watts, Chair CRL, on the launch of the film: "I am really excited to be able to launch this film showcasing an easy but fascinating walk between Burscough and Rufford. For too long the West Lancashire line has been in the shadows of the north's more glamorous scenic lines which is a shame as the line has many hidden gems which are well worth exploring. Take a look at the film, hop on a train and take the walk between Burscough and Rufford."
Caroline Eccles, Huckleberry Films commented: "We've not visited this part of Lancashire before, and working with Community Rail Lancashire to develop our film gave us a great opportunity to find out more about the area."
Caroline went on to say: "It was great to discover the route for the first time and highlight the beautiful places to explore from Burscough and Rufford. We were lucky to film on warm sunny days which were perfect for a leisurely walk along the towpath, but a return visit in a different season will I'm sure offer different interesting things to see too. We hope our short film encourages people to jump on a train and head over to explore for themselves."
Trains run every hour between Preston and Ormskirk on Mondays to Saturdays with good connections onto Merseyrail services to/from Liverpool. Full details can be found on:
www.nationalrail.co.uk/ or www.northernrailway.co.uk/travel/timetables.
This project was funded by a grant from the Community Rail Development Fund, a pot of money provided by the Department for Transport and managed by the Community Rail Network. The fund is available for accredited CRPs to help with their projects.