On Thursday 2nd June, a ground breaking ceremony took place at St Anne's-on-the-Sea railway station to mark the start of the Foundation Stone Project. In attendance at the event was the Mayor of St Anne's Councillor Karen Harrison and Tony Ford, Chairman of the South Fylde Line CRP and Vice Chairman of Community Rail Lancashire.
This project, which is led by Community Rail Lancashire, will see a replica of the existing foundation stone, which is currently embedded in the basement wall of the Town House pub, relocated to the green space outside of St Anne's railway station, so it can be seen by all.
The foundation stone is an important part of the town's history and links to the town's Neighbourhood Plan, enhancing an important gateway into the town, whilst recognising the historical, social and architectural developments of St Anne's.
The project is being funded by St Anne's Town Council, Fylde Borough Council Community Projects Fund, Lytham Heritage Group, Community Rail Lancashire and a number of personal donations.
Liam Galvin, local builder and stonemason, will be sculpting the replica foundation stone and carrying out the works necessary to install it in its new home.
The building work on this project will take approximately a week and then work will begin on interpretation boards to accompany the project.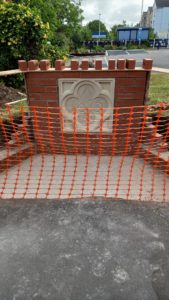 Mayor of St Annes, Councillor Karen Harrison said: "I was honoured to attend the ground breaking ceremony for the new foundation stone for St Annes. Replicating the stone and situating it in front of the train station allows it to be visible to all the visitors and residents. I can't wait to see it unveiled!"
Tony Ford, Chairman of the South Fylde Line CRP and Vice Chairman of Community Rail Lancashire added: "I am really pleased that work is starting on this project. What seemed like a simple task became complicated by having to secure planning permission, then COVID struck and different builders have come and gone."