The Joint Clitheroe Line & East Lancashire Community Rail Partnerships are very pleased to announce that they have just been awarded a grant from the Community Rail Development Fund (CRDF) for a project on Blackburn station.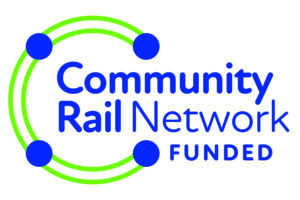 The project called Fantastic Recycled Plastic will see the CRPs along with team members from Community Rail Lancashire working with Newfield School and local artist Alastair Nicholson.
Newfield School is a secondary school for pupils with varying physical and educational needs in Blackburn – see https://www.newfield.org.uk/ for more information about the school. The school acquired some funding in 2020 for a community-based project but were unable to start anything over the year due to the Covid-19 pandemic and it's resulting restrictions.
They approached local artist, Alastair Nicholson, who they have worked with before, for some ideas on a community project that would benefit the school and it's community. As train travel is not something that the pupils who attend the school find particularly easy, it was suggested that CRL may be able to help the school and support some kind of community initiative.
The idea for an art project that would promote sustainability and rail travel and somehow allow the school to part of the wider community was thought of. Fantastic Recycled Plastic came about after a discussion with school and artist. The idea was that a unique piece of artwork would be produced by the pupils using recyclable plastic. The plastic would come from milk bottles that would be melted down and made into tiles that would then be formed into a piece of artwork that would be displayed at Blackburn Station and a replica would be displayed at the school. This would complement a piece of work that was produced by the young people at NightSafe and is currently displayed at the Blackburn Station.
Many of the pupils at Newfield School have some profound disabilities that can prevent them from travelling on public transport without adequate support. As part of the project CRL will liaise with the staff, parents and pupils as well as Northern to produce a directory of contacts that will make travelling by train safe and accessible for all concerned. This can then be used by the school any time they wish to travel with the pupils. It will also fit in with the school's Life Skills curriculum where the pupils are taught how to use public transport with confidence. The aim is to organise a train trip for some staff and pupils, with their parents in order build the confidence of all the participants.
The Community Rail Development Fund is a pot of money provided by the Department for Transport and managed by the Community Rail Network. The fund is available for accredited CRPs to help with their projects.