Whether you are a football fan or not Preston's (female) football history is a fascinating mix of determination, defiance, and dedication and we are excited to have been awarded funding by Avanti West Coast to help bring this often-hidden history to light.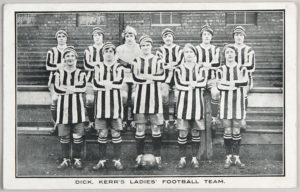 We will be working with Lancashire-based author, Michelle Crane, and a cast of professional film makers to bring the story of the Dick, Kerr Ladies (a female football team born out of Preston's WW1 munitions factories) to a wider audience. A new film, called 'Granny' will be made and CRL will work with a group of young people to create a series of postcards about the Dick, Kerr Ladies and their important place in history.
2021 is a poignant time to be doing this project as 100 years ago the Football Association banned women from playing on their pitches. Women could build bombs and carry machinery but were told, by the FA, that football was "unsuitable for females and ought not to be encouraged." Despite the ban, the Dick, Kerr Ladies continued to play football across the world and chalked more than 200 games without defeat. The ladies played their first game at Preston North End's Deepdale stadium where a new memorial can be seen today. Female football history is starting to be brought to life with the National Football Museum in Manchester having pledged to increase representation of women in football in their exhibitions to 50% by 2022. In a world where we are continuing to battle for equality and develop awareness this very human story is timeless. It demonstrates how far we've come as a society and yet how far we have to go.
We agree with Belinda Scarlett, the curator of women's football at the National Football Museum, that "it's important for young people to see that barriers are not new challenges, they're something we still have to overcome, and that women did push back in the 1920s, that they continued to play despite all that negative publicity. That will hopefully give them a bit of fire to carry on and to push back today and say: 'No that's not acceptable, it wasn't acceptable then and it's not acceptable now.'"