Community Rail Lancashire is pleased to announce that two of its constituent CRPs have successfully applied for grants from the Community Rail Network's Community Rail Development Fund (CRDF).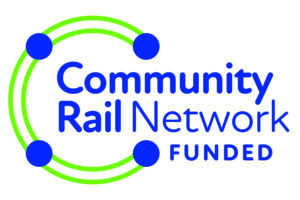 West Of Lancashire Community Rail Partnership – Walking Burscough Stations to Martin Mere
This project is focused on highlighting and promoting the flat and easy walking route from Burscough's railway stations (Junction and Bridge) to Martin Mere Wetland Centre, nationally recognised for its wetland fauna and flora, its wildfowl family friendly exhibits all year round and its purpose to educate and excite the public on caring for wildlife and the environment.
You will find grazing cows supporting the conservation of the natural habitat as well as a variety of wetland and migratory birds and the centre recognises, especially since the Covid pandemic, the importance of being outside in nature provides to support the health and wellbeing of visitors – being 'in nature' in an accessible and accessible environment.
This project will also see local artist Angie Thompson from Ormskirk working with a local primary school to create more clear signage at the station for Martin Mere.
The project will create a short 'virtual walk' film of walking to Martin Mere from Burscough's railway stations. The aim will be to familiarise and excite people with what to expect from the walk as well as highlighting what's at Martin Mere. This customised film will become part of a growing film series – Exploring Lancashire By Rail.
East Lancashire Community Rail Partnership – Church & Oswaldtwistle – This is Us
Is a project designed to raise awareness of local places to pupils of two local primary schools, particularly the public outdoor spaces and those of historical significance, as it is recognised that pupils in the locality are unlikely to be completely aware of what's on their doorstep. Through this project it is hoped that the children will feel a sense of pride in their area, be more aware of their surroundings and develop a greater appreciation of it as well as being proud of their contributions to the wonderful artwork which ultimately will adorn the station and add to the ambiance, so wonderfully tended by the local Rotary Club who are the Friends of the Church and Oswaldtwistle Station. It will also support the pupils to gain familiarity with their station through ownership of it.
The project will see the pupils working with local artist Alastair Nicholson to ultimately to produce colourful artwork by the pupils in both schools that highlights what the children identify as 'great' in Church and Oswaldtwistle to encourage people to visit a perhaps less well-known area by train.