Monday 18th March marked the start of the first national Community Rail Week. To celebrate this in Lancashire Community Rail Lancashire (CRL), in partnership with the West of Lancashire Community Rail Partnership (WoLCRP) and St John's Roman Catholic Primary School, held an event at 10:30 at Burscough Junction station.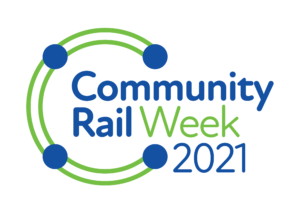 What happened?
+  Pupils from the nearby St John's RC Primary School, who have adopted the disused platform at the station, showed off where they have got to with the transformation of the platform with their colourful artwork and bee friendly flowers in the planters.
+  The school worked with community artist, Karen Allerton on a project called a 'Positive Train of Thought'. The artwork is on display on the disused platform, especially on the bug/bee hotels and in an attractive poster.
+  CRL and WofLCRP launched a brand-new line guide and poster called 'Make A Bee Line for the West Lancashire Line'. The leaflet is packed full of ideas for what to do along the whole West Lancashire Line from Preston to Liverpool.
+  A group of St John's pupils caught the train to Rufford and walked back to school along the Rufford Branch and the Leeds & Liverpool canals. The route is featured in a brand-new film that explores what there is to see along the route. It can be viewed on You Tube at https://www.youtube.com/watch?v=8CkGdwUC7KE.
A best practice paper about the project can be downloaded on this link: Positive Train of Thought Report
Marion Atkinson, Chair of the West of Lancashire CRP, said: 'I am delighted to be at Burscough today at the start of Community Rail Week to celebrate the great work of the St John's pupils and to launch the new Line Guide. This line is a hidden gem offering fascinating days out and it's great to see the school playing its part in making this station look even more attractive as we welcome back passengers to the railway.'
Karen Allerton commented: 'It has been wonderful to work with St John's Catholic Primary school from Burscough to help them come out of lockdown with a 'positive train of thought'. The children have painted and drawn some delightful bees and flowers and being able to make the bug hotels… well, I'm sure the insects will be happy with the planting to attract them. I am so pleased to be able to help the school get started on the platform again and they deserve to celebrate their achievements.'
Claire Smith, Deputy Head and year 5/6 teacher, added: 'St John's has been delighted to be a part of this project working alongside Community Rail Lancashire.  The past two years have been such turbulent times in the lives of our young children.  Through this project, we have been able to talk about and reflect on this time, recognise what we have learned about how to look after ourselves and our friends and neighbours through developing and taking responsibility for looking after areas in our local community.'
Dan Coles, Network Rail, concluded by saying: 'We're pleased to work with Community Rail Lancashire and St John's Roman Catholic Primary School in developing a section of land at Burscough Junction for community use. This safe area, which will be managed under a Community Rail Licence Scheme, has the potential to become a great asset for helping pupils engage with the local station, under the Positive Train of Thought project'