The Bentham Line (Leeds-Morecambe Community Rail Partnership) is joining other community partnerships and volunteer groups across Britain to spearhead a national campaign highlighting sustainable travel as a key factor in tackling the climate crisis, in the build up to COP26.
Community Rail Week, organised by the Community Rail Network and sponsored by Rail Delivery Group, is the first event of its kind in the UK and will see hundreds of local partnership projects and volunteers getting involved to promote green travel by train during 18th to 24th October.
Many activities during the week will be focused on youth engagement, as a new survey shows that seven in ten young people support greater use of trains in the future.
With greener transport now recognised as a fundamental part of the solution to climate change, Community Rail Week, with the tagline 'Go Green by Train', looks to drive change at a community level through the efforts of 74 community rail partnerships and over 1,000 station friends' groups across Britain.
Transport has a huge role to play if the UK is to reach its target of reducing greenhouse gas emissions by 100% of 1990 levels, or 'net zero', by 2050. Figures show that:
+  Transport is now the largest emitting sector in the UK, making up 27% of domestic emissions in 2019; 1
+  Rail accounted for just 1% of domestic transport emissions in 2019, despite representing 10% of the total distance travelled, and is the greenest form of transport after walking and cycling; 2, 3
+  One train can remove up to 500 cars off our roads; 4
+  For a 30-mile journey, travelling by train instead of by car can reduce emissions by up to 86%. 5
During Community Rail Week the Bentham Line is publishing news of various initiatives on its social media sites including the topics highlighted here.
A GREEN ENERGY STATION
When the Friends of Bentham Station (FOBS) celebrated their 8th anniversary they also announced their ambitious plans for Bentham to become a 100% Green Energy Station.  A special cause for celebration was the receipt of a Social Stations Investment Fund grant towards the exciting new project.
The flat roof on the station building can accommodate the 32 photovoltaic panels it would need to generate all the electricity required for the station, including the LED platform lights, and information screens, as well as within the offices. Richard Wilson of FOBS, who devised the scheme, hopes that it will become an exemplar, not just for stations, but for other buildings within the town. Richard Isaac, of Northern, said,  "it is proof that local involvement works; the final result will be absolutely fantastic and will act as an example for other stations within, and beyond, the Northern's network".
RAILWAY STUDENTS WANT TO 'GET NATURE BACK ON TRACK'
University students on placement with Northern Trains and the partnership have been sharing their knowledge of green issues as well recently.  They prepared nine station information panels, a travelling exhibition and an animation for their chosen theme, 'Get Nature Back on Track', which also reflected their ideas on sustainability.  Topics for the panels included climate change, waste management, water management, recycling, air pollution and renewable energy.  The project has also been supported by the Forest of Bowland AONB. This is echoed in the panels on reforestation, biodiversity and wild flowers.
Matt Rayson, one of the students, who provided the voice for an animation, included as a QR code said, "the panels were designed to be informative and educational and we tried to ensure that the messages conveyed were suitable for all ages. However, the animation with its main character Ed was designed to appeal to young children."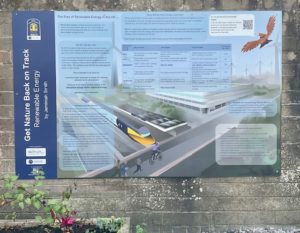 Local professional artist,  Alastair Nicholson, who worked tirelessly with the students to create the illustrations and animation, commented, "I have been impressed by all of the students. I am very pleased and proud to have participated in this project and I hope the students feel the same."
Ian Davis on behalf of  the Community Rail Network, added,  "this is an absolutely amazing display. I would like to congratulate everyone involved for their commitment, determination and talent which shines out through the exhibition and the animation."
The large 'Get Nature Back on Track' panels are on display at stations along the route between Leeds and Morecambe.  These will reinforce the message about being greener and caring for the environment.
Rod Tickner, Vice-chair of the Bentham Line, said: "sustainable travel is important along the whole of our line, whether it is travelling to the city for work, getting into the countryside or making a trip to the coast."
Alongside national campaigns by Rail Operators, the Leeds-Morecambe Community Rail Partnership (CRP) has launched their own promotional video for the Bentham Line to encourage people to return to rail travel and enjoy the tourism and active leisure opportunities the line has to offer. Entitled  'We've Missed You Too …' the video encapsulates the entire route from Leeds via Skipton to Lancaster and Morecambe.
Gerald Townson, Chairman of the CRP said,  "we wished to support communities along the Bentham Line in making a positive return to their local line,  as well as encouraging new audiences to enjoy journeys along our scenic route. It is also an environmentally friendly way to travel".
The video was made possible by the CRP successfully securing a grant from the Community Engagement Fund of CrossCountry Trains.
As part of the week, the Community Rail Network has released results of a survey of 1,000 16 to 24-year-olds, detailing their current travel habits and attitudes to green travel:
+  Seven in ten (70%) young people are keen to see more people using trains in the future, with the vast majority (90%) saying the environment and climate emergency is an important issue to them;
+  Around half (48%) travel by train at least once a month, but one in six (17%) have rarely or never been on a train, or can't remember when they last did;
+  While 94% have a station near enough for them to use, most (67%) admit there are factors getting in the way of them using trains, including practicalities with walking, cycling, or getting a bus to the station, being worried about cost, or driving or getting lifts being more convenient.
Jools Townsend, chief executive of Community Rail Network, said: "As we approach the international climate talks in Glasgow, Britain's community rail movement is coming together to highlight the great importance of green travel at a local and global level. Transport is now the biggest contributor of UK greenhouse emissions, so we face a pressing challenge to decarbonise the way we get around, for the sake of future generations – plus our communities can benefit now from reduced traffic and pollution. Rail, combined with buses, walking, cycling, and shared mobility, provides a huge part of the solution: shifting as many journeys as we can onto these modes, and reducing private car use, can help us forge a more sustainable, healthy, inclusive future.
"We're excited to launch our first Community Rail Week with events and activities in communities across Britain, raising awareness and exploring how we can enable and empower more people to feel confident and able to go green by train."
Andy Bagnall, director general at the Rail Delivery Group, said: "Trains are inherently green so when people go by rail it's more than a journey – it's literally helping to save the planet!
"In future, we want trains to be the backbone of a decarbonised transport network so, as well as supporting initiatives like Community Rail Week, we want to work with government to reform ticketing and fares – if it's easier for people to find and buy a good value ticket, more people will use rail as a green alternative to other ways of travelling."