Church & Oswaldtwistle Rotary Club, who have adopted their local railway station on the Colne to Preston Line have just been awarded the Queen's Award for Voluntary Service.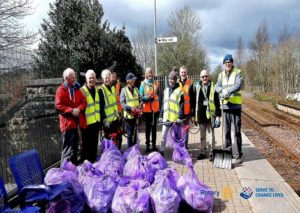 Seven years ago members of the Rotary club of Church and Oswaldtwistle realised that their local railway station (Church and Oswaldtwistle) was in need of improvement, as it looked very shabby.
Ever since a team of around 6 volunteers from the club turn up every Saturday morning from February until October to tackle the various jobs to keep the station spick and span. This is mainly to remove the ever presence of weeds, sweeping of both inside, outside and the many steps of this large station, painting the subway and other items, and upkeep of the 9 wooden and plastic planters.
We are very proud of our begonias that are placed in every planter during the summer and tulips in spring, but as there is no water supply at the station, we have to operate a rota to bring water from home to give the plants a good watering, especially in the summer months.
Our club purchased a wooden model engine and carriages (see image above) three years ago (a real show stopper) again this is filled with plants during the whole year. This certainly really enhances both platforms.
Articles that we do in connection with the railway project appear onto our face book page, and as a result a member from the office of the Lord lieutenant of Lancashire made contact with us and in due course an examiner arranged a meeting with senior members of our Rotary club.
Although the examiner was keen to inspect the railway station, we took the opportunity to show the examiner the work we do on the environment, local youth, local elderly, local and International projects, and the local community.
Obviously we impressed the examiner all that we do as a Rotary club, but the station project was the catalyst that started the journey to them being awarded the QAVS.