It was fantastic to wake up to the most beautiful morning to install the Back on Track 2020 artwork at Darwen Station on Wednesday 2nd June 2021.
The project took place with community artist, Karen Allerton alongside 10 keen young people supported by CANW (the charity, Child Action Northwest). It ran during autumn 2020 and due to the pandemic, it has taken until now to install the artwork. We are delighted to be unveiling it at last!
This project was designed so that it could take place whatever the lockdown restrictions, though it was hoped it would be possible for Karen to meet with the group face to face at some point, perhaps even taking a train journey too, but this wasn't and hasn't happened yet, but will when restrictions allow.
The purpose of Back on Track 2020 was to provide an opportunity for the young people to think about the impact the lockdown was having on their lives, both highs and the lows and explore their hopes for the remainder of the year and their future. By looking ahead positively it was hoped all would gain confidence to move forward and not lose sight of their ambitions and potential; to prevent derailment by the pandemic!
Karen Allerton put together an Art Box for each participant and CANW delivered it to their homes. It had everything in it for the sessions – inks, pens, water colours, pencils – 'like having Christmas early' said one of the participants to Karen!
The sessions all took place by Zoom. Karen said 'this was the first time I had ever conducted art sessions on-line. It was a learning experience for me as I hadn't worked in this way before, but everyone involved embraced the format and as you can see from the final designs incorporating visual and word elements, they are very expressive and far exceeded what I thought would be possible through virtual sessions. I hope everyone's ability to adapt has also inspired confidence for the future too. I just can't wait for the chance to actually meet with the group in person and take a train journey too – soon I hope!'
Samantha Wakefield, CANW Support Manager said 'This has been a fantastic project which has allowed all involved to gain new skills and meet new people, even when everyone was predominately at home! It was wonderful that an inspiring project like this could take place 'online' and really help everyone feel less alone in such unapparelled times. We are so delighted with the wonderful artwork that has been created by our young people which has helped to get everyone Back on Track!'
As Karen Allerton explained when everyone was able to recently meet face to face, socially distanced to view their artwork at the station 'It was fantastic to at last meet up with everyone, who until now, I have only seen on Zoom. Everyone was so thrilled and proud to see their artwork displayed and this really comes through when you  view the video of the  artwork tour. I want to thank everyone involved for their enthusiasm and commitment.'
A best practice paper about this project can be downloaded on this link: Back on Track – Best Practice Paper
There are 10 different circles installed at the station (see below). These represent the bubbles we all found ourselves in during the pandemic and the young people chose the focus of theirs and looking forward to emerging out of the bubbles when restrictions allowed – hence the butterflies in the larger artwork pieces and a rainbow – synonymous with this period.
CANW were also delighted to have the project customised specially to support their young people providing an opportunity for them to reflect on the pandemic and how it has affected their lives, but to turn this into a positive experience and help them gain confidence to get out and about again, using their local railway station too!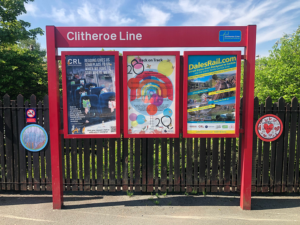 One member of the public said while the artwork was being put up – it is so nice to see something to brighten up the station when we have all been through so much recently.
We look forward to celebrating the achievements of the young people in due course and taking that well deserved train journey.