The disused platform at Burscough Junction station has recently seen a resurgence of work and an introduction of colour as a local school, St. John's RC Primary have (re)adopted the platform under a licence from Network Rail.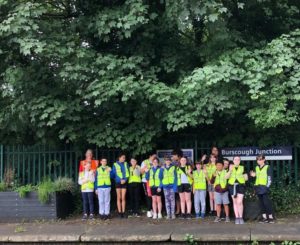 The school had previously worked with Community Rail Lancashire (CRL) who hold the licence, but the Covid pandemic meant all work on the platform had to be suspended.
CRL commissioned local artist, Karen Allerton, who worked with the pupils at the school to develop an art project called 'Positive Train of Thought'. The creative artwork produced by the pupils is now on display at the station.
Under the licence from Network Rail the pupils and teachers have helped clear the platform and introduced bee friendly plants to the various planters on the platform.
In addition, the pupils have also helped with the designs on the newly constructed attractive bug hotels which are now installed on the platform.
The pupils were also introduced to the benefits of rail travel through sessions led by CRL's Shahiesta Raja and fitting in with CRL's ambition of 'Educating the Passengers of the Future'. The pupils will be taken on an escorted rail trip during the autumn term unfortunately it couldn't be any earlier due to travel restrictions.
This project was funded by a grant from the Community Rail Development Fund, a pot of money provided by the Department for Transport and managed by the Community Rail Network. The fund is available for accredited CRPs to help with their projects.