For the past three years, Community Rail Lancashire has delivered an annual project which promotes the rail industry as a viable employment option to young women and in addition, encourages confident travel. When the Covid-19 virus struck in early 2020, it was clear that there would have to be a different approach to the annual women's project.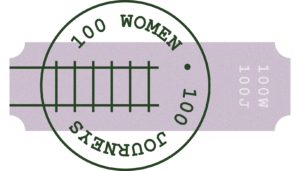 Community Rail Lancashire's education team rose to the challenge and came up with an idea to create an international project at a safe distance. After an interesting discussion about how women around the world travel by train, the team came up with the idea of collecting as many stories as possible from women all over the world to celebrate and to raise awareness of their experiences.
After some extensive networking, the amazing, thought provoking and often tear-jerking stories started to trickle through to the team. With the help and fantastic creative talents of Jodie Greenwood of Wedge Collective, the 100 stories started to become a book for everyone to enjoy.
As some of our contributors were multilingual, we decided to painstakingly translate some of the stories into Urdu…a new experience for all! Who knew it was possible to type in اردو !
An electronic copy of the book can be downloaded on this link: 100W 100 J Final or a nifty flip book version here https://issuu.com/jodiecorrin/docs/100w_page2
At Community Rail Lancashire, we are well known for our great project launches and we always look forward to celebrating the culmination of a project with our many partners and contributors (and of course we look forward to cake!) For obvious reasons this was not possible this time, but we still had a celebration via Zoom with all its technical glitches!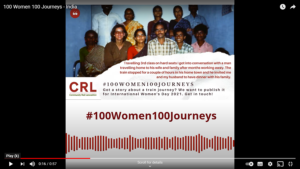 We were, and still are, grateful for the support and patience of our guests at the celebration. It has all been a learning experience for us, one that will stay with us and help us to improve the ways in which can help people to access our projects in the future. It was lovely to hear some our contributors read their stories to us, a beautifully personal way for us to appreciate an event in someone's life.
100 Women – 100 Journeys seeks to inspire passengers back onto the railway when it is safe to do so after a year's hiatus. The project has an extra purpose and that is to promote Women's Aid's Rail to Refuge scheme which has supported many vulnerable people throughout the pandemic.
Between April and November 2020, an incredible 836 journeys were made on the railways via Women's Aid's Rail to Refuge scheme. Through Rail to Refuge, survivors with a confirmed refuge space travelled for free on the train across England, Scotland and Wales. Two-thirds of these vital journeys would not have been made had they not been paid for. Hundreds of people are now safe.
We hope you enjoy flicking through the book and losing yourself on a train journey in Malaysia, India, Russia or Yorkshire! If you would like to be part of a project in the future please contact us on communityraillancashire.crl@gmail.com
''Thank you for asking me to read today, it's been a privilege to be part of such a wonderful worthwhile project, the book looks awesome.''  Diane Rimmer
''Amazing project, look forward to receiving the book and supporting Womens Aid – it really made me well up!''  Kaye Robinson – EMR
''What a wonderful, wonderful project, still drying my eyes! Well done CRL. So inspirational! And the design of the book looks fantastic.'' Fiona Forsythe