Due to the ongoing uncertainty around the DalesRail service the previously advertised guided walks programme has been cancelled. If the service runs on Sunday 31st July the following alternative walks will be offered.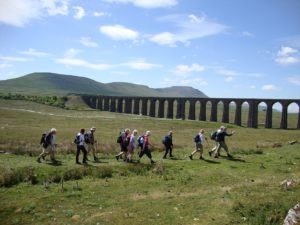 Walk 1 – a moderate D Walk of 10 miles Alight Dent return Ribblehead
Dent – Coal Road – Green Bank – Swineley Cowm – Newby Head – Mossy Bottom – Blea Moor – Ribblehead.
Walk 2 – a moderate D Walk of 10 miles Alight Horton-in-Ribblesdale return Ribblehead
Horton – New Houses Fawber – Top Farm – Pennine Way at Canal Cavern – Birkwith Moor – Ling Gill Bridge – New House Barn – Ling Gill Ridge – Nether Lodge – Ingman Lodge – Gauber Road – Ribblehead.
Walk 3 – a moderately easy E Walk of 8 miles Alight & return Settle
Settle – Ribble Way – Stainforth – Stainforth Scar – Lower Whinskill – Victoria cave – Attermire Scar – Dales High Way – Consitution Hill – Settle.
Please check back here or on Twitter with @crl_live to make sure the service is running before making any firm plans or booking any tickets.