DalesRail
Sunday 16th May sees the return of DalesRail, Lancashire's special rail service linking to the Settle – Carlisle railway and providing direct access to the Yorkshire Dales National Park and the Eden Valley. From Sunday 6th June the Lancashire Rail Ramblers will be offering a programme of guided walks to help you get the best out of your visit to the area.

The walks are led by experienced, volunteer walk leaders. Explore this website to find out more about what to do when you travel by DalesRail and take a look at the brand new brochure, by clicking the image below, which provides all the basic information you need to make this a special day out.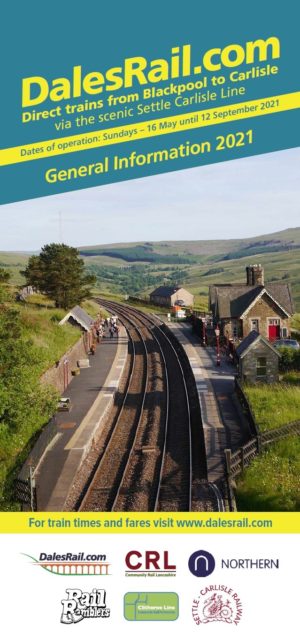 In the meantime get ready for the 2021 season by watching the DalesRail taster video below, keep safe and CRL looks forward to seeing you all again in the future.
To give a taster of what DalesRail is all about a promotional video has been made for Community Rail Lancashire by Nodrog (Gordon Head) and this can be seen below:
As the Covid pandemic put paid to last year's season we decided to create a Virtual DalesRail with the help of regular users of the service. A huge repository of interesting memories and anecdotes can be seen by using this link to the Tales from DalesRail pages or by using the navigation buttons at the top right of this page. We will add more pictures to the gallery so keep looking!
If you have any DalesRail pictures or stories you would like to share, please send them to Richard Watts on richard.watts.crl@gmail.com or to communityraillancashire.crl@gmail.com – thank you.
Lancashire DalesRail is simply the best way to spend a Sunday! The service links Lancashire with the scenic Ribble Valley, Yorkshire Dales and Eden Valley. Starting from the coastal resort of Blackpool, DalesRail passes through Poulton-le-Fylde, Preston, Bamber Bridge, Blackburn, Whalley and Clitheroe before travelling along the famous Settle to Carlisle line and terminating in the historic border city of Carlisle.
The journey from Settle takes in the famous Ribblehead Viaduct, passes through Blea Moor tunnel and crosses the top of Dentdale and Garsdale before passing into the more pastoral Eden Valley and the lovely town of Appleby-in-Westmorland. You can enjoy all this, and more, from the comfort of a modern diesel train.
DalesRail is much more than a scenic train ride, it is an integrated package providing a full day out. You will find information about the many places that can be visited; the extensive guided walk programme led by experienced leaders from the Lancashire Rail Ramblers and the coach links that extend the rail journey to places the train cannot reach.